Gobo ("goes before optics") projectors, also known as gobo lights, are devices that use a gobo to create a projected image or text.

Gobo projectors range in output capabilities and are used for a variety of purposes, including business presentations, event décor, stage lighting, exterior messaging and more. They're a popular choice for businesses, houses of worship and events as they can be used to produce a wide range of projections, from simple text or logos to more elaborate designs, with many models offering thousands of presets. Gobo projectors can also be used to create backdrops or set pieces for stage productions and other events.
Parts of a Gobo Projector
Gobo projectors are made up of three main components: the projector head, the gobo and the adapter.

The projector head is the part of the projector that creates the light projection. The gobo is a stencil that is placed inside the projector and blocks the light from passing through except for the image or text that is cut out of it.

The adapter is used to attach the gobo to the projector head. Gobos are typically made of metal, glass or plastic and can be either etched or engraved. They are inserted into a projector, which then shines the light through the gobo to create the projection.
Consider These Factors When Choosing a Gobo Projector
There are multiple factors to consider when choosing a gobo projector. The first is the size of the projection. The projector should be able to create a projection that is large enough to be seen by your audience. Will it be used indoors or outdoors? Is weather a factor? How much ambient light is present?
The type of gobo you choose is also important; some projects require more intricate designs than others. Additionally, you need to consider the brightness of the projector and make sure it's suitable for your intended application. The surface material that's projected upon will also be a key variable.
Gobo projectors are an affordable and versatile way to add impact to your visuals, leaving a lasting impression on viewers. If you're looking for an easy way to add visual interest to your next presentation or event, consider working with US Signcrafters to find a gobo projector fit for you.
Staff Spotlight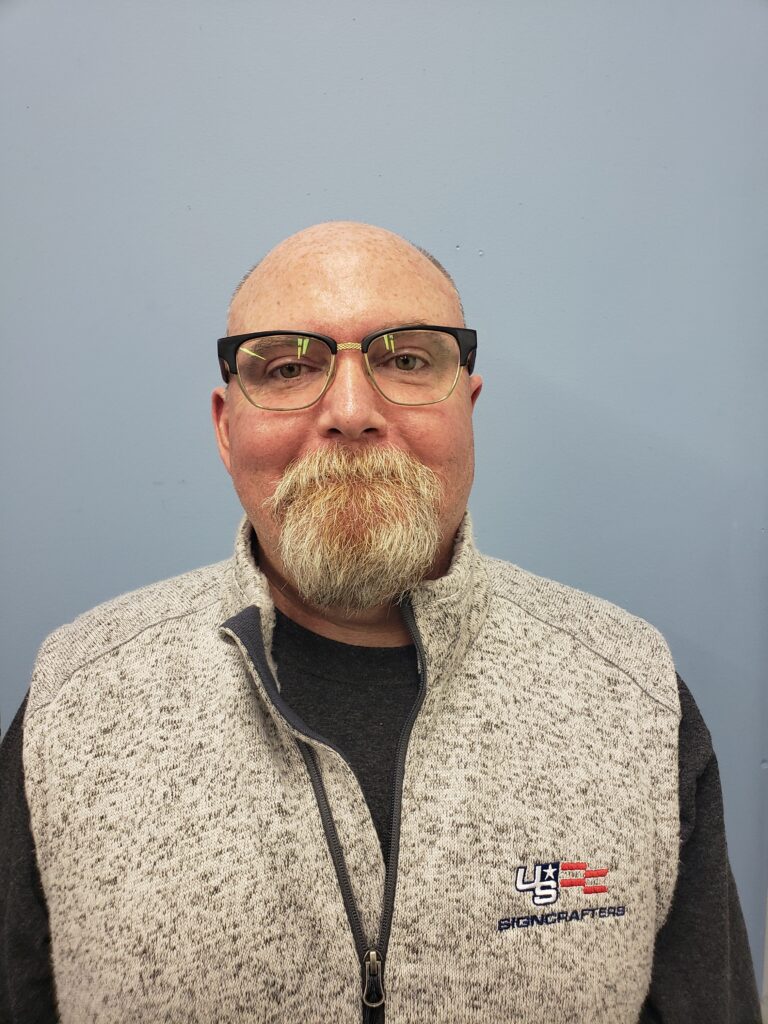 Why were you attracted to the sign industry?
That's a good question. I've been in the industry 25 years. I started out working in the industry for the City of South Bend as a code enforcement official. I was offered a position with a national sign company, I found it interesting and that's all she wrote.
What's your approach when consulting with a client who's interested in working with US Signcrafters?
I'm not a pushy individual. I like to work with people and help people realize their brand and the design that's most advantageous for their company or their business.
What do you enjoy about the industry?
I like to see the finished product. I like to see, ultimately, the final design implemented and in use.
What's your favorite type of sign and why?
I don't think I have a favorite sign. I do have a fascination for landmark signs that are of a historic nature, that are old and restored. I get a kick out of working on the preservation commission (Mishawaka Historic Preservation Commission) and helping people maintain and preserve old buildings and homes.
Can you recall a sign from your childhood that's seared into your memory?
Not from my childhood, but definitely as an adult. There is a sign is South Bend that I had the pleasure of working on and really rescuing, making sure the sign was not demolished. And that was The Skillet restaurant in South Bend.

What happened is the State of Indiana came through and told these property owners they either had to relocate the sign, you know, farther back on the property, or take the sign down altogether because of a widening project. They were widening the right of way.
I was contacted and I helped the property owner and the restaurant owner protect the sign by moving it back, and at the same time, the sign was restored by US Signcrafters.
Which project would you consider a career highlight?
A career highlight would have to be the "City of Elkhart" architectural focus wall at the Aquatics Center at Elkhart Health.