Navigating any unfamiliar environment can be a challenge, but with well-placed directional and way-finding signs, visitors of a school can more easily find their way around campus.
US Signcrafters recently wrapped an all-exterior project at Marian High School in Mishawaka, where signage was installed to help with traffic flow within multiple lots, as well as guide visitors to athletic facilities and other campus locations.
"I made it happen," said USS sign consultant Steven Tucker of his project role.
"Basically, I kept everyone on the same page with all of the moving parts. We coordinated with a mason and an electrician and also staked every single location. We made sure signs were going in the right place, made sure copy was accurate because a lot of these were directional signs and arrows — we basically made sure the school was happy with what they had and made sure we were consistent with their newly established brand standards such as colors and fonts."
Directional signs are designed to give visitors a clear indication of where they need to go, pointing them in the right direction with arrows and clear, concise messages.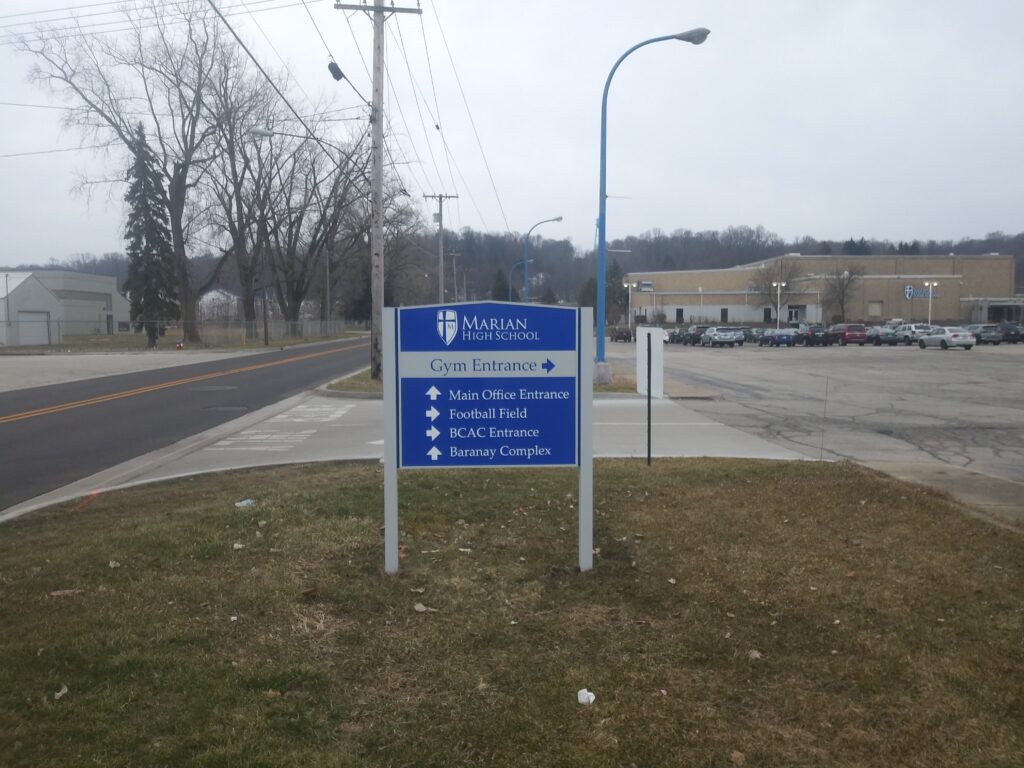 "Basically, anyone coming from other schools, you're not going to know it like the back of your hand like if you have kids who go there or you go there yourself," Steven said. "It really helps visiting schools more than anything and then becomes second nature if you're already there."
Way-finding signs, on the other hand, provide a more comprehensive approach to navigation by displaying maps and other information that helps visitors situate themselves within the school's layout.
"They're placed at entrances," Steven said of Marian High School's way-finding additions. "For example, across Logan Street, there's the soccer stadium and tennis. And then in the main lot, we also directed people to the auditorium and football stadium."
These signs are especially helpful for events like parent-teacher conferences, athletic events or orientation days, where large groups of visitors may require guidance. By utilizing strategic placement and clear messaging, directional and way-finding signs can be an invaluable tool for any school, ensuring a positive and stress-free experience for all visitors.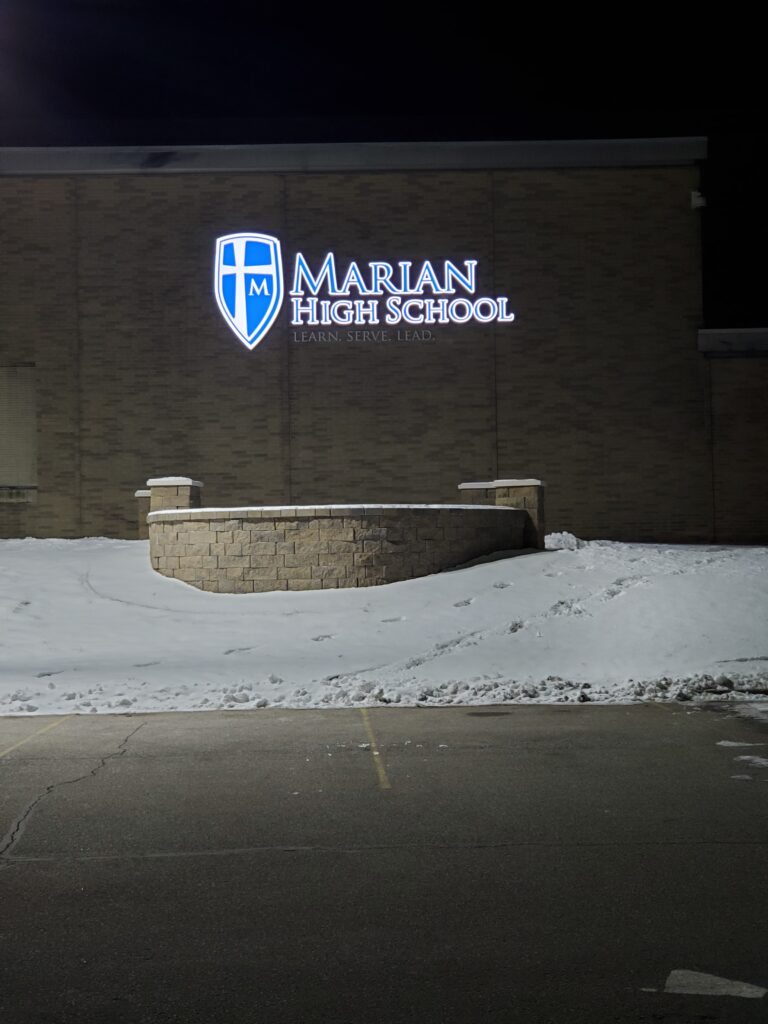 How US Signcrafters Can Help
US Signcrafters is devoted to providing the highest level of care and service to our clients, regardless of industry or scope. One area in which we excel is the design, fabrication and installation of directional and way-finding signage. For schools or other large institutions, it can be difficult to ensure visitors find their way around campus or buildings. That's where US Signcrafters can help, offering our expertise in creating clear and easy-to-understand signage that guides people exactly where they need to go. From initial design concepts to the final product, our team at US Signcrafters is committed to diverting eyes and delivering exceptional results.
Have a question? Contact us today and tell us about your next project!
Employee Spotlight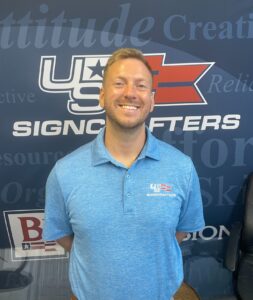 How did you enter the sign industry?
I got a chance with another company in town and it wasn't directly sign-related, but what I was doing was surveying signs for Cricket Wireless and Chrysler facilities. It was a friend of mine who hired me as a 1099 contractor. They had a list of job sites and they needed to catalog what was existing for when they rolled out future changes. So I'd gather photos and measurements, essentially, and make sure I wasn't missing anything, walk the whole parking and submit those photos and measurements while answering any questions about the site.
That was summer 2014, my first summer out college; by the end of that August, I had an office job of a project manager-type. I was running survey projects like that rather than being someone in the field. I had a half-dozen people or so report to me with their findings. So, I did that for a while and then moved over to Signcrafters, and now I see our work locally. We're actually a fabrication and install shop; I didn't use to be a part of that at all — we were more of the pre-planning stage of a sign project.
As a consultant what's your approach when receiving jobs for a US Signcrafters client?
First, I want to see what they're thinking and maybe set some expectations, a timeline, a budget, what they're comfortable with. I want to know what's the underlying need for the sign. So, you have all sorts of different scenarios; a name change is common, someone opening a second location is a common, a new logo — so, establishing why they need the sign. It can be as simple as just, 'Hey, we need to help people find this building, or an entrance or help identify a building.' I figure out the need and how to best address that by talking that through.
Why do you enjoy working in the sign industry?
Well, being that I'm working in my backyard here, I'm seeing the signs go up, and it's kind of a little point of pride of, I guess, beautifying the area, making sure we're doing attractive signs. So seeing the end product come together and to have it be a cool place in the community. Like Sun King Brewing in downtown Mishawaka; I did that and it's pretty cool.
Like, you could have this really cool construction project but you could blow it with an ugly sign. The sign is so important and far too often gets overlooked.

What's your favorite type of sign and why?
I enjoy doing monument signs usually because that means the place is going to be there for a long time. You're laying brick, you're setting a foundation and it's being planted at an entrance or right in front of a building. It's usually in a place by the road so people can drive by and see it. You won't have to turn your head to the building. Usually you have a little more a blank canvas. With a building, you can have all sorts of obstructions you're working with, and if you have a nice, open front yard area, it's a little easier; you're just looking for good sight lines so it's visible. It's something you can as your passing by, which is why I like it, and it's gonna be there for a long.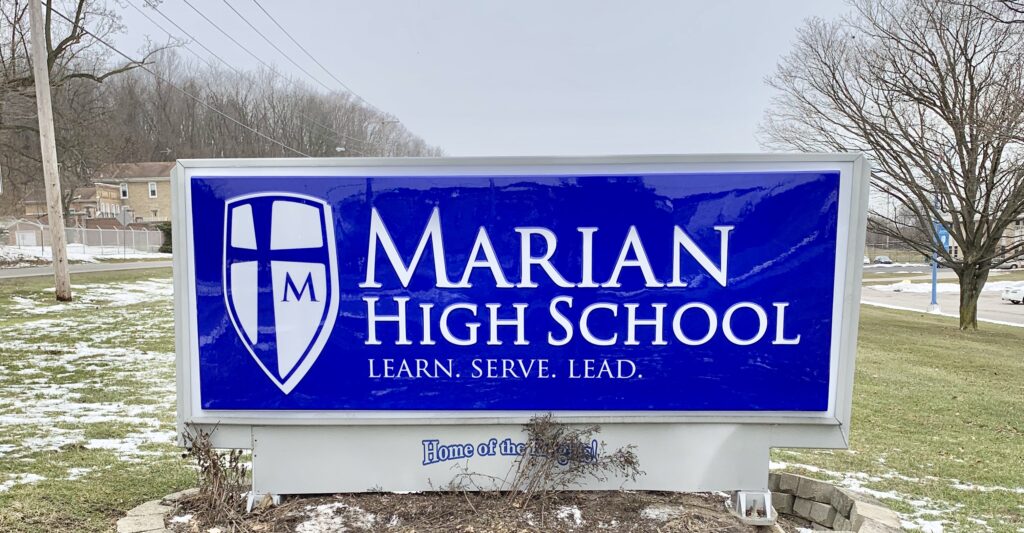 What's a sign from your childhood that's seared into your memory?
The local VFW. I'm from Wheaton, Illinois, a Chicago suburb. What they had out front was kind of like a veterans display and they had a tank in front yard. I always thought that was so cool. And thinking back, it's like, "Oh, that was to signify it was a VFW." I just always though it, "Oh, that's really cool. There's a tank right there." A cool landmark is essentially a sign, if you're doing it right.

Which project would you consider a career highlight?
I really liked doing the Marian High School job, which was one of my first big ones. And then the second one is definitely the Mishawaka City Hall. Last year, they consolidated the police department and utilities and City Hall operations. It was a big undertaking, and we were part of it, helping people find their way around this large facility.
That one was a little more of a challenge because it was looking at plans. Marian was already there, it's already there. So we were having to trust the word of architects. One thing was making sure materials fit through doors. We had this big 10-foot display that we wanted to fit, but turns out we had to reduce it down about a foot and a half because it wouldn't fit some doors. So things as simple as that, you just don't think about sometimes.