In today's crowded business world, companies need to cut through the noise and catch the attention of potential customers quickly. One of the most effective ways to achieve this is by showcasing large-format prints in your commercial space.
Take a look around: large-format prints are widely used in a variety of workspaces, from retail stores and hotels to exhibitions and trade shows; these prints can be used to display products, communicate important information, boost brand awareness or simply add some aesthetic appeal to your surroundings.
However, designing and creating large-format prints is no easy feat. Fortunately, US Signcrafters is here to assist you in producing the perfect prints. Our experienced team of designers and signage experts can help you select the right look, materials and printing technology that will enhance your brand recognition while effectively delivering your message. Read on to discover the benefits and characteristics of large-format printing and how US Signcrafters can help in your next print project.
Eye-Catching Size
One of the most significant benefits of large-format prints is the size they afford. Unlike conventional prints, which are often confined to small, standard sizes, large-format prints can be sized to fit most wall areas. This means businesses can create bold, attention-grabbing visuals that span entire walls to communicate their messages, products or services in a manner that's hard to miss and near impossible to ignore. The larger size also allows for more detail, meaning customers can gain a better understanding of what your company is about at first glance. Moreover, since the prints are larger than traditional advertising materials, they have a greater chance of drawing attention from farther away.
Cost-Efficient Advertising
Large-format prints also tend to be much more cost efficient than traditional signage options. Many businesses use them as a way to advertise their services or products without having to invest too much money upfront. In addition, once you've purchased the print itself, large-format prints require little maintenance over time which helps keep costs down even more. This makes them ideal for businesses looking for an effective advertising solution without breaking the bank.
Crisp Visuals
The high resolution that large-format printing can provide is crucial in displaying crisp visuals. Businesses can use this opportunity to showcase their products and services with high-definition images that are vibrant and detailed. This not only captures attention but can also help to better communicate the finer qualities of a product, logo or packaging.
Versatile & Mobile
The versatility of large-format prints lets businesses create custom designs that are tailored to their specific requirements. This allows them to promote their brand in a unique, captivating way, ensuring their message stands out. Additionally, it provides an excellent mobile backdrop for customers to take pictures in front of, which they can then share on social media, raising brand awareness and generating more buzz for the business.
How US Signcrafters Can Help
At US Signcrafters, we understand the importance of creating a visually appealing environment that effectively communicates your brand message to your customers. That's why we take a collaborative approach to designing and creating large-format prints for commercial spaces. From the initial client consultation to the final installation, we work closely with our clients every step of the way to ensure their vision is fully realized.
Our team of expert designers and technicians are dedicated to providing the highest level of customer service and quality craftsmanship to help our clients achieve their marketing objectives. Whether you need a custom wall mural, window graphics or trade show displays, US Signcrafters has the expertise and resources to bring your brand to life. Contact us today to learn more about how we can help!
Employee Spotlight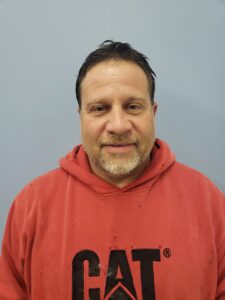 How did you enter the sign industry?
My brother was previous president of the company. I was in the Navy, I came home and was going to school. He got me started here part time. I had an electrical background in the Navy as an electrician. He got some started in it, and it's as simple as that. The rest is history. I've been there ever since.
As an installer, what's your approach when receiving jobs for a US Signcrafters client? 

When we get a job … as a company, we try to prioritize jobs, like the size of the jobs. The most important thing to me is: how does the customer need this? Is there a time frame they need it in? 
The thing I tell my guys is, "When you have somebody come and work at your house, how do you look at the people coming to your house to work on your refrigerator or washing machine? We need to be like that."
So we need to be courteous, we need to call ahead of time — we always have to look out for how they think. A lot of the time, we know what we're doing but we have to be sensitive because the customer may not understand our methods. So I just try to always make sure the customer is in the loop of what we're doing or explain why we're doing something a certain way. It'll look good at the end, the sign will be up, and you'll be happy with it. 
A lot of jobs, the salesman will consult me in the midst of selling it. The salesman, they're pretty savvy and can tell (when I would need to be consulted) but sometimes the jobs may require questions. The client may want it up on their building up high, but they might not realize there's an issue on the other side of the wall. If it's a unique installation, they'll get me involved as early as they can just to see, "What are the obstacles we might run into that we're not seeing?" And then I'll get with them and do the best I can, or get my guys. Between all of us, we can figure out, "Is this a good spot for it?"
When the job is sold, a lot of the time before we install it, we go out and look to see what will be beneath the sign as far as, when we put it up, do we need areas cleared out? Do we need to drive on their grass? What are the physical obstacles we need to work around? I usually determine all of that.
If something is up too high, we may need to rent equipment; that happens a lot. Something that's outside the scope of our vehicles or crane. I try to think, "Hey, this job may be best if we do it on a weekend." If it's, perhaps, downtown South Bend, a lot less people down there. If there's anything with the city, roads blocked off, etc., I kinda oversee all of that. Either me or one of my guys looks at that. 

Why do you enjoy working in the sign industry?

What I enjoy most is that every day is pretty different. I don't really have an office. I'm in a truck — one day I may be at a hospital or a school, putting up signs. The next day, I may be 30 feet in the air, working on a big sign up in the air. Unfortunately some days, I might be digging a big hole, setting some steel for a sign. 
But it varies. It's not as mundane as it may seem, like, "Oh, you just install signs." Sometimes we're fixing signs that we already put up. It changes a lot.
I like being outside. Sometimes it's too hot, sometimes it's too cold, but I'll take it. You're out and about. I like to see things, and when we create things, you can see it. You can see what we do, how we progress. There's a finished product, or, hey, we just fixed that — that kinda thing. It's not glamorous but it's just nice to see when you do a job. Bam! Look at that big sign! It works, the lights look good, that satisfaction. It's fulfilling.
Another one of my favorite things about working here is the people. The guys I work with, the people I work, they're great; all of them are great. I love it, especially the two guys I work closest with, Dave Addington and Pete Wesaw. Those guys are tremendous; they're smart, they have a sense of humor, they're funny. We work well as a group. When you work with good people like that, you end up putting out good products and figuring things out. It helps a lot, ya know?

What's your favorite type of sign and why?
We make signs sometimes called sandblasted signs from a piece of wood. They're not lit up. They're not electric. So, they're kinda old-school, but a lot of times they look very nice.
I do like some of the modern LED/scrolling-message signs. They look very good, where the client will be able to program them through the internet and put different messages on them. For a modern sign, those do look good, but I like the old, classic, non-illuminated signs with the old-fashioned look, carved out of wood with wood posts, that sorta thing. I like that.

What's a sign from your childhood that's seared into your memory?
Yeah! I can distinctly remember. We grew up in Rockford, Illinois, and I remember my dad, he got a job here in South Bend. He would work here during the week, he had an apartment, and he'd come back on the weekends for a while. We drove back and forth a lot between Rockford and South Bend before he finally got a house to move the family into — me and my brothers and my mom.
So I remember going through Chicago a lot, and the lips (Magikist); I dunno know what it was even for.
There's a story: One time, we were driving to Wisconsin, actually, through Chicago. We passed it, "Oh, there's the lips, everybody! There's the lips!"
And my dad somehow takes a wrong turn. (He always tells this story. He goes, "You remember that?").
And we went by those lips again.
And I'd say, "Hey, Dad, it's the lips again!"
He's like, "Shut up back there," because he went the wrong way. And he'd turn around, and I kept saying, "There they are again!" (laughing)
But I remember that. That's a sign that stuck with me and I never really thought about it before, but yeah, I remember that from being a little kid.
Which project would you consider a career highlight?
We just redid Downtown Mishawaka — the police station, the ice rink, everything down there in downtown Mishawaka by the Mill — Ironworks all the way down to where the police station is and Mishawaka Utilities; all of that stuff looks pretty good.
We did that. We put it with pretty much zero flaws. We got it all up on time, and it looks good. I guess I think about it because I drive by it so much on the way to work. And so, I don't know, they were two separate projects but I kinda lump them into the same because we did them within the same time frame, and they were both for the City of Mishawaka. That whole area looks rejuvenated and nice, and I like to think we had a big role in that.